Develop, manufacture and deliver affordable treatment to millions of patients.
Integrated model
We are a leading producer and distributor of health related products. Our business model is vertically integrated running through the whole value chain.
Main Pharmaceutical Manufacturing Companies

Sopharma AD

Unipharm AD

Biopharm Engineering AD

 

Main Non-Pharmaceutical Manufacturing Companies

Medica AD

Momina Krepost AD

Biopharm Engineering AD

Companies
15

traditional herbal products

in the mother company

more than 200

generic products

in the Group
(Analgin top best selling product in Bulgaria)

5

of top 10 most sold products

of the mother company
are the company traditional herbal products
---
Main Distribution Companies

Sopharma Trading AD

BRIZ Latvia

Companies
 

Sopharma Trading is a Bulgarian Market leader in the wholesale sector

 

Partner of choice

 

400 partner and
7000 products
Sustainable Development
Our cost structure coupled with the know-how and GMP certifications of our production facilities enable us to offer high quality competitively priced products. We aim at providing more accessible and affordable treatment than our competitors.
We have a strong potential for further development on Sopharma's own traditional herbal products in the long-term. The first such product registered on the Austrian market was Nivaject, the injectable form of Nivalin (galantamin).
Product cycle
Health Issues

Sopharma AD is focused on identifying socially important diseases and on developing, and presenting to the market affordable medicines to control them. Thus the company contributes to people` improved health and prolonged life.

R&D

This stage of the product cycle includes the development of molecules that solves the particular health issues identified in step one.

Clinical Trials

To evaluate its medicinal products, Sopharma AD conducts clinical trials. New generic products are clinically tested for bioequivalence. Sopharma AD also takes responsibility to gather additional information about a medicine's safety, efficacy and optimal use after the regulatory approval. For its branded products the company performs post-authorization studies.

Registration

Once the pharmaceutical and clinical development is accomplished, the dossier of the product is prepared to serve the purposes of Marketing Authorization Application. Following a procedure of Regulatory Authority review and approval the product is granted a Marketing Authorization on certain territory/ies.

Production

The production process is in full compliance with GMP regulations and makes.

Quality Management

Quality assurance and control is present in all stepst of the product cycle, including, but not limited to the production process. To make sure that a patient receives always the same product different measures and control steps are taken at each stage to provide feedback on the main parameters of the product.

Marketing

the marketing effort is designed to achieve one main purpose – to provide information for the availability of a new and efficient treatment to the medical professionals and patients.
---
Our social role: innovative approach to the health care experience and affordable treatment
A socially engaged domestic player with leading market position
The Group is present in 33 countries, but the key markets are Bulgaria, Russia, Ukraine, Kazakhstan and Poland and the strategic plan focuses on further market expansion within the area.
Manufacturing Facilities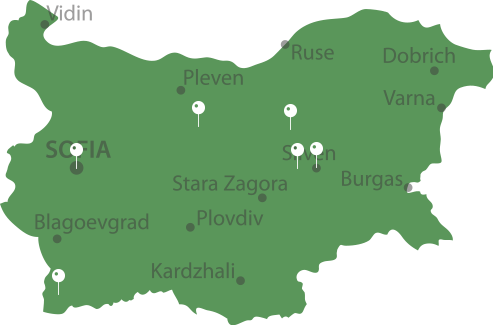 Production facilities:
Sofia
Vrabevo
Kazanlak
Sliven
Veliko Tarnovo
Sandanski
Distribution Network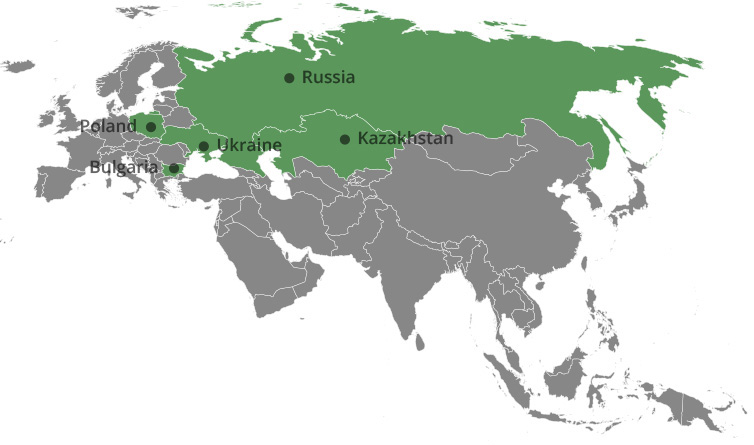 Distribution network:
Bulgaria, Russia, Ukraine, Kazakhstan, Poland

Bulgaria: Sopharma Trading AD – a business entity registered in Bulgaria with a seat and address of management: Sofia, Izgrev Region, 5 Lachezar Stanchev Str., Sopharma Business Towers, Building A, floor 12. Sopharma Trading AD is a pharmaceutical distribution company providing wholesale and pre-wholesale services to pharmaceutical and healthcare related producers. The company is number one on the hospital market and has a leading position on the retail market in Bulgaria with more than 20% market share.
Ukraine: Sopharma Ukraine is the distribution company responsible for Sopharma products on the Ukrainian market. The company is registered in the Ukraine with a seat and address of management: Ukraine, Kiev, Oblonski Region, prospect Moskovskii No. 9, unit 4, floor 2, office 4-203.
Kazakhstan: TOO Sopharma Kazakhstan, Kazakhstan – a business entity registered in Kazakhstan with a seat and registered address: Kazakhstan, Almaty, Auezovski Region, Mamyr Microdistrict - 4, d. 190 responsible for distributing Sopharma's products in Kazakhstan.
Poland: Sopharma Warsaw SP. Z.O.O., Poland – a business entity registered in Poland with a seat and address of management: Poland, Warsaw, 8, Halubinskiego Str. Responsible for distribution of Sopharma's products in Poland.
Latvia, Litva and Belarus: Briz SIA, Latvia – a business entity registered in Latvia with a seat and address of management: Latvia, Riga, Rasas No. 5, LV – 1057.
We are
Innovation enabler

Continuosly investing in technologies, innovation, research and science

Health distributor

Increasingly enhancing a distribution model for products and services that make medication more affordable and accesible for the vast majority of patients

Reliable partner

Establishing a constant and effective dialogue with all parties in the pharmaceutical industry that contribute to the improvement of the health care system

A valuable investment

Thanks to
- a business strategy focused on portfolio diversification, constant expansion on foreign markets, successful M&A operations
- a financial strategy based on profitability and on strong performance in key markets
- adoption of transparent and efficient governance model